CFD Announces the Retirement of Paramedic/ Firefighter Chuck Haman. Thanks to Paramedic Haman for his years of Service.
CFD Announces the Retirement of Lieutenant Brien McClary. Thanks to Lt. McClary for his service.
CFD Announces the Retirement of Lieutenant Randy Pratt. Thanks to Lt. Pratt and his years of service to the citizens of Clovis.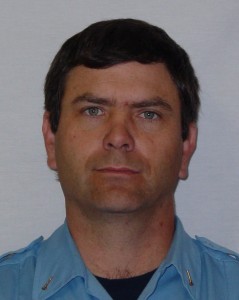 CFD Salutes Administrative Battalion Chief Tim Peterson.
Mooo-ving Milk!
September 29, 2012
Clovis Fire Department proudly represented at the second annual Southwest Cheese/ United Way Truck Pull by bringing home first place. Congrats to the fifteen member team who pulled the 60,000 pound milk tanker 25 feet in 11.16 seconds! They CFD also won the Best Dressed Team award!
Another successful hiring! Clovis Fire Department hired its next batch of recruits August 18, 2012. The department received numerous great applicants and after a rigorous testing process a number of them were hired. CFD is always looking for the next great firefighter/emt. Applications will be accepted online prior to our next testing, date to be announced! Thanks to all the applicants who came out and tested.